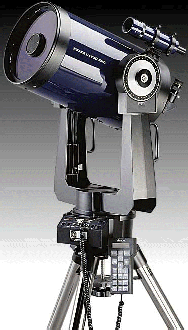 Meade LX200
Welcome to the Revolution!!!
Personal astronomy has taken a giant leap forward in last few years. With the advent of affordable, computerized telescopes, astronomical CCD cameras, sky and image processing software, and digitized sky on CD Rom; the world of astronomy has opened up to a universe of possibilities. Individuals can now accomplish what was once only possible with only a few of the largest observatories in the world.
The computerization of the telescope, combined with detailed accurate software, has eliminated much sky hopping, and sky chart navigating. A celestial object can be accurately located within seconds.
When it comes to light gathering abilities, the CCD camera makes up in sensitivity and time, what much larger telescopes had in size. Of course now, these observatories are using CCD cameras as well. To our benefit--the power of the internet, has been unleashed. We can link up to these sites. We too can see what has never been seen before. Image processing software can unblur an image, bring out the faintest details, and even eliminate most light pollution. It is even possible to image deep sky objects on full moon nights!
The introduction of RealSky CDROM , (a set of 9 CD ROMS of complete images of the sky in the Northern Hemisphere down to -15 degrees), has made it available to bring actual images of the sky onto a computer screen. These images can be compared with the image just taken by the CCD camera. Asteroids can be hunted down, supernova found, and comets discovered.
"The Telescope"
The Meade 12" LX 200 F/10 is the workhorse of our observatory. I use it with an Optec .33 Focal Reducer, which maximizes the telescope's CCD capabilities at F/3.3. It has always been reliable, and with it's GOTO capabilities, it always put the image on our CCD chip. The telescope is remotely controlled and permanently polar mounted. Which makes it a great small observatory scope. The only limiting factor is that with accesories attached, I keep away from the polar area, as the camera will not swing thru the fork mount and will hit the telescope. This can damage the Dec drive & or the camera. If used in Alt/Az mode you would have the same problem, near the sky zenith. Overall, it's a great telescope.
Meade LX200 Technical Info
Smart Drive Info
C-Sat Satellite Tracking Software for LX200
Doc G's Info Site
Handicapper Modifications for the LX200
LX200 Modifications & Tools
LX200 API Software-beta
LX-200 Astronomer's Control Panel
MAPUG Archives
MAPUG Topical Archive by Stewart
Meade Star database for Use in TheSky Astronomy Software
Milburn wedge
Observing List for LX200
Schmidt-Cassegrain Mirror Stablizer
SBSat: Satellite Tracking and Remote Control LX200
Star Cross-Reference Data For LX200 Users
Wje's Astronomy Page for LX200
"The Camera"
Meade Pictor 416 Technical Info.
Optec, Inc. MAXfield FAQ Page
An Idiot's Guide To Using The 416XT CCD Camera
"The Software"
TheSky Level IV by Software Bisque
Meade Epoch 2000sk
Meade Epoch 2000ip
Paint Shop Pro 4.0
GIF Construction Set
RealSky CD-ROM
Adobe Photoshop
Other Software
AstroArts Home Page
Astronomical Software & Documentation Service
Computer Aided Astronomy
EzPhot CCD Photometry Software
ftp://ftp.halcyon.com:/pub/users/burrjaw/
MaxImDL/CCD
MIRA image processing Software
Tpoint Software
WinZip

"CCD Tips & Techniques"
The Arcturus Observatory Modified Hartman Mask --An improved focusing mask for CCD imaging.
Quick CCD Object Location Technique --A new technique to locate object speedily with a CCD camera.
Other CCD Tip & Techniques
CCD University
CCD Polar Alignment
High Resolution CCD Imaging
Image Processing using Picture Window Program
The Starlight Xpress CCD camera
Have a discovery?
IAU: Central Bureau for Astronomical Telegrams
Guide to Minor-Body Astrometry
If you shop Amazon.com please use this link.
All our proceeds support this web site and our Near Earth Objects research program.


Take me back to
Sitemap
What's New
Table of Contents