July 10, 2008 12:26 AM till 12:54PM
Sun alt 70.6 deg to 73.2 deg to 72.1 deg
Tips and Tricks to Great CHA Photography.
1.) Know your Sky. CHA's form in Cirrus clouds, very often a 22 deg Halo may be visible around the Sun, prior to an event.
Look below the Sun about, 46 deg, at the proper time. Starting approximately an hour before High Noon, dependant upon your latitude; ending about one hour after High Noon. The Sun's altitude determines the amount of time available for a potential event.
2.)Wear polarized Sunglasses to spot CHA's.
3.) Have DSLR camera with 18-55mm Zoom lens or equivalent, with a circular polarized filter. Always have it ready. The filter is a must. It helps capture the polarized rays at their best.
June 11, 2008 11:36 AM till 1:41PM
Sun alt 66 deg to 73.2 deg to 70.8 deg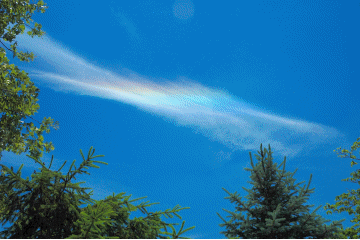 For 3 days in a row, May, 28 2008, May 29, 2008 and May 30, 2008 Circumhorizon Arcs were visible over Whiting New Jersey.
Below are some images of those CHA's and links for more images.
May 28, 2008 11:38 AM and 2:05 PM
Sun Altitude 65.5 to 71.7 to 66.4 deg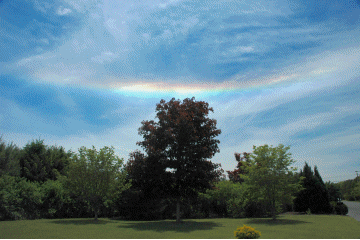 May 29, 2008 1:13PM to 1:51PM
Sun Altitude 71.4 to 68.3 deg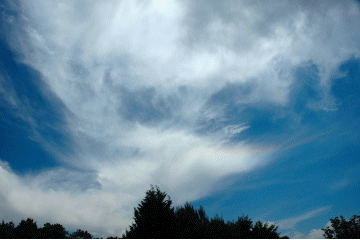 May 30, 2008 12:35 to 1:05 PM
Sun Altitude 71.5 to 71.9 deg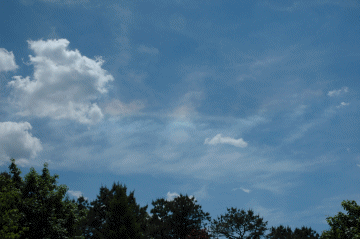 April, 25, 2008 12:50PM
Sun Alt 63.6 deg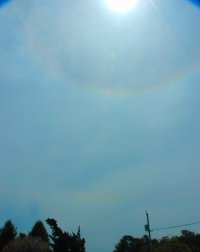 A faint CHA was visible that day.
July 22, 2007 1:54 PM till 2:14PM
Sun alt 67.6 deg to 65.2 deg